How to use Snapchat for a Business
There are many types of content that a business can utilise as part of their marketing strategy, not just blogs and articles. Social media allows us to be creative in the way we deliver our brand in front of your potential customers. So let's break down how Snapchat can be used for a business. In 2011 Snapchat graced our app stores and very quickly became a popular social site with over 188 million daily active users globally.
78% of those users are between the ages of 18 and 24, and almost 70% are female, which can be a hard market to tap into. However, reports suggest that these users are spending on average 30 minutes a day on the app, or more.
So, if this is a target market you're trying to appeal to at the moment but just can't seem to tap into, why not use Snapchat to deliver your content directly to them?
Snapchat specialises in video and image-based content that disappears eventually. It used to only last 10 seconds but an update changed that setting to anything between 1 second and whenever the person receiving the message clicks off it (represented with an infinity sign).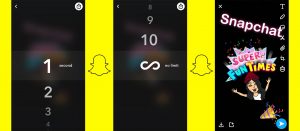 Snapchat stories, however, last 24 hours. You can attach YouTube videos, links to articles and other websites to them as well. On top of this, you can upload as many snaps as you like to your story, however each time you film you are limited to a 60-second clip, that is split into six sections. But, you can upload as many of them as you'd like! Your viewers can either chose to watch them all or click through them.
On top of this Snapchat also utilises filters, which a lot of the time can be inappropriate for a business to use, however, their geofilters can be great for a company. If you're attending an event you can create a geofilter attached to the event's location and use it for the duration of the event. You can even ask your followers to come to the event and use the filter themselves.
What's more is you can screenshot images and save your snaps to your phone, so your followers can save the image they took using your filter and post it to their social media's using one of your hashtags (which you could also include on your filter), sharing your brand with all their followers and ergo spreading your brand further.
Snapchat isn't the best platform for every business, but some that have succeeded using it include National Geographic, BuzzFeed, Jet2Holidays, Vice, and LadBible, all of which can be viewed through the discover page where you can search for specific brands individually or just view the top trending stories.
On this platform, you can be more transparent and creative with your audience. Include behind the scenes footage and give a personal touch to your brand that your audience can engage and resonate with.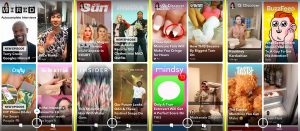 The app also utilises vertical videos, which are becoming more and more popular with Instagram and Instagram TV doing the same thing, which means you can create one video and use it on both platforms.
For consistency, we suggest having a username that is the same across your chosen social medias, or as close to each other as they can be. This just comes across as more organised, thought out and professional than a different username for each app.
According to their website, which isn't as popular as the mobile app, you can; Raise Awareness and make an impression on a huge audience with the most engaging ad formats on mobile; Increase Consideration and inspire potential customers to lean in and learn more, seamlessly driving them to your website or content; Drive Action and drive foot traffic, sign-ups, app installs, and more with ads that make an impact, fast, and are fun to interact with.
So what are you waiting for? Get started and use Snapchat for your business. Be creative as you like, use images, videos and attach links. There really aren't any rules; you're only limited by your own restrictions and imagination. Enjoy snapping away!